First Step Therapy Centre Provides
Life-Changing Treatment For Children & Adults
The First Step Therapy Method can dramatically improve the functioning of individuals with neurological disorders, such as Cerebral Palsy, Global Developmental Delay, Traumatic Brain Injuries, Autism and other conditions which affect the person's physical, mental, social & emotional well being.
The First Step Therapy Method is an original neuro-rehabilitation approach, which is made up of a number of therapies, combined in a specific treatment programme for you, the patient. The approach recognises that the body is made up of different inter-connected systems and seeks to restore the functioning of these systems to their optimum level.
Our team of professional & dedicated therapists provide excellent care through pioneering methods of treatment and therapy based in our modern therapy centre in Patrickswell, Limerick. Ireland.
The therapy approach brings together all of the best principles of proven techniques and methods and maximises how the body uses physical exercise and the repair functions of the human body to heal itself.
Each patient's programme is customised with a unique selection of therapies including:


- Suit Therapy

- Universal Exercise Unit

- Neuro Respiratory Therapy

- Intensive Paediatric Therapy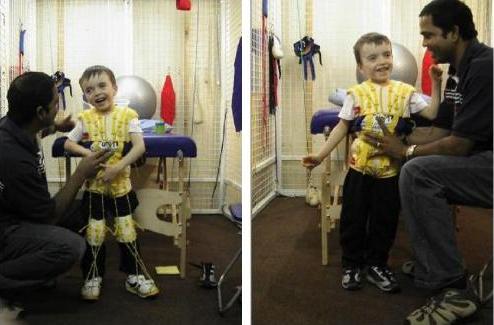 Our therapy approach is reinforced by our extensive knowledge and training in the Neuro-Developmental principles of therapy such as: Sensory Integration, Motor learning & Control, Fitness, Strength & Endurance Training, with emphasis on optimising normal motor development. The First Step Therapy approach and treatment is driven by our dedication to serve the patient's specific needs and by working closely with care-givers and family members.
We provide intensive, specific and functional therapy that will successfully enhance normal growth and development of children, which will eliminate or minimise the effect of impaired reflexes and establish normal functional patterns of movements which are of paramount importance in a child's early development.
Adults too benefit from the therapy, which can accelerate and enhance the healing and recovery process.
If you would like to get in contact with us then click on the Contact Us button on the navigation bar on the left. We are always ready to help the patient and care-giver in any way we can.